​
Our FREE eBOOKS are a hit! Over the last few weekends, we have extended opportunities to you to enjoy free access to our eBooks about "The Louisiana Purchase" and how "The Lewis and Clark Expedition" explored westward across the continent, and made an incredible "Return Journey." We are excited to report that these free samples are slowly starting to expand our audience and cross-promote our other books. We also have received some great reviews! Thank you to all who have left your positive reviews. These are very helpful in attracting new readers. If you'd like to leave a review, it's so easy! Just click on the book title: Louisiana Purchase; Lewis and Clark: Westward; Lewis and Clark: Return; or this weekend's FREE eBook The Astorians.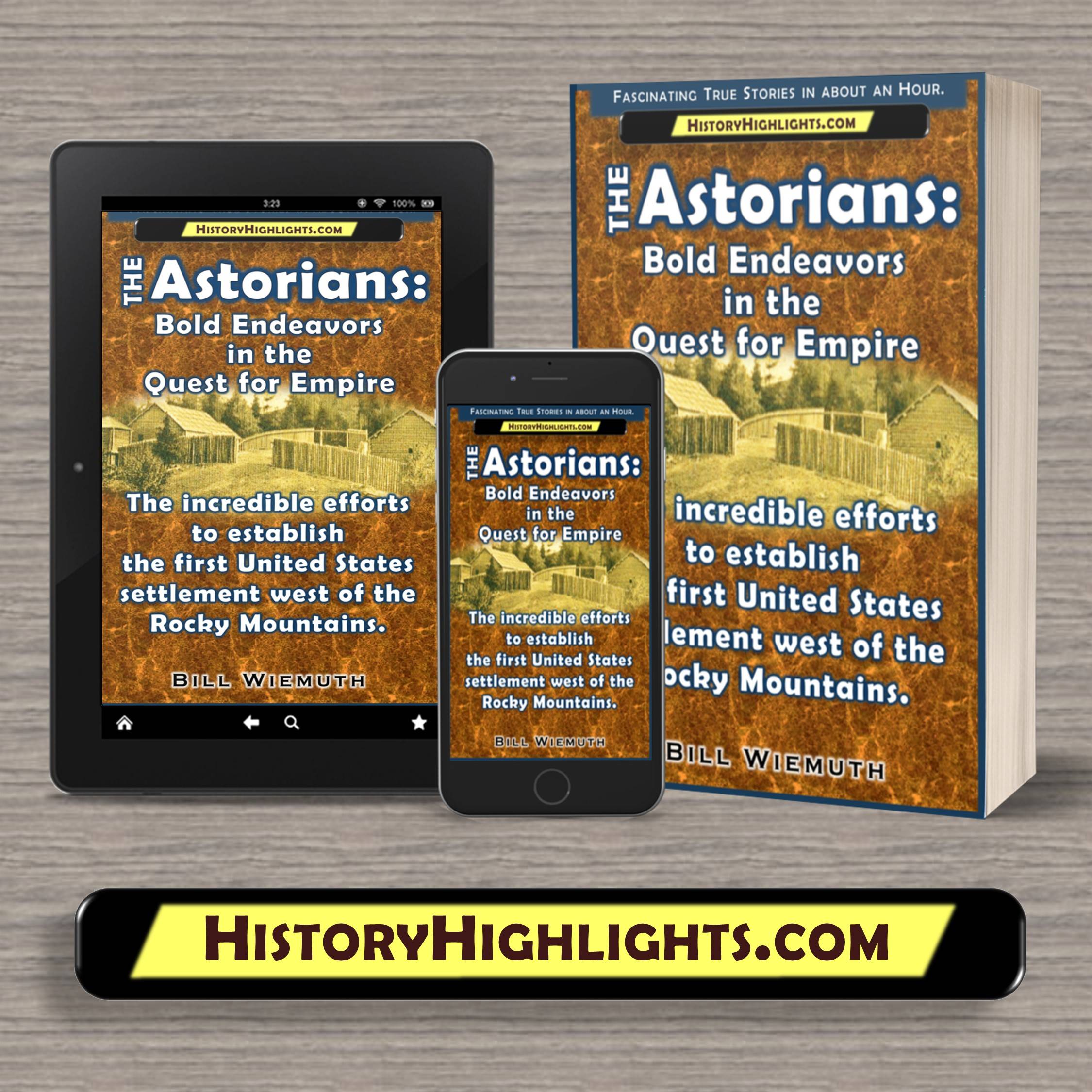 The drama and adventure continue this weekend as we release a FREE eBook of the amazing story of "The Astorians" which chronicles the first effort at U.S. western settlement, funded by fur trade tycoon John Jacob Astor. To download this eBook (available for FREE today and tomorrow -- February 25 & 26) to read on any Kindle, smartphone, tablet, or computer, CLICK HERE.
​
To enjoy our online multi-media video presentation of "The Astorians" with Bill sharing the highlights of this amazing story, just CLICK HERE.
OR...to get a FREE WEEK TRIAL of our All-Access History Video Streaming Service to enjoy this video and our entire library of 200+ videos on-demand, CLICK HERE.
​
MEMBER SUPPORTER BONUSES
We curate a fun exploration of brief history highlights for our Patreon.com Member Supporter group. We share lots of bonus features, articles, and multimedia posts. We will soon be sharing special insights about the historic return of U.S. passenger cruises on San Francisco Bay and our experience on this new exciting itinerary. Our wonderful supporters make all of our endeavors possible. View free samples and learn more about joining this exclusive group and our journey through history at:
​https://Patreon.com/HistoryHighlights ​
In connection with this weekend's FREE eBook offer, we thought we'd share in this newsletter more details about the incredible story of the first United States efforts to settle and develop west of the Rocky Mountains. Enjoy reading some of "The Astorians" highlights below:
In 1810 -- only four years after the triumphant return of the exploratory expedition led by Meriwether Lewis and William Clark -- fur-trading tycoon John Jacob Astor funded an endeavor to expand his operations to the Pacific Northwest coast of North America and to establish a headquarters at the mouth of the Columbia River.
Astor dispatched two groups to the Northwest. One group departed New York by ship on a journey that required six-months to sail more than 21,000 miles to reach the Columbia River's mouth. They rendezvoused with another group that traveled by land across North America.
Both the land and sea groups endured incredible challenges and hardship. Their dramatic efforts altered the history of the Pacific Northwest and ultimately impacted the western expansion of the United States.
Learning of the plan, United States President Thomas Jefferson wrote to John Jacob Astor, "Your name will be handed down with that of Columbus & Raleigh as the father of the establishment and the founder of such an empire."
The effort of those brave entrepreneur trappers and traders yielded the first United States settlement west of the Rocky Mountains. Their dramatic and ill-fated efforts expanded United States claim to the Pacific Northwest. They thought nothing could restrict their success. But history records a dramatically different story.
This amazing and little-known story offers an incredible adventure tale. Join me to explore an fascinating true story of attempts to settle, claim, and develop the Pacific Northwest. You will discover the fascinating people, remarkable events, and dramatic impact.
Delve deeper into the story of The Astorians in our FREE eBook available this weekend (also available in paperback) or our online video presentation.
Get ready for a journey of discovery.
All the best,
Bill and Laura